The eagerly awaited sixth issue of Hunger magazine hit the newsstands this week.  'Hunger', from photographer Rankin, is packed with stunning examples of fashion and editorial photography.  I have been buying it since the launch issue.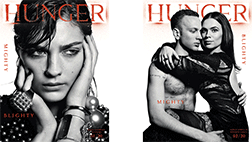 The theme for this issue is 'Mighty Blighty' and Rankin has chosen to release the magazine with 20 different covers, each a celebration of British talent. 
I had a choice of covers to buy and chose the one with fashion designer Katie Eary (below) just because the shot really appealed to me. 
Reading through the magazine it strikes me how diverse a photographer Rankin is.  He isn't one who is content to stick to the same formula every time, yet every set of images has a strong narrative that draws you in.  I envy his talent.  The images that stand out for me in Hunger 6 are of Kristin Scott Thomas; Tinie Tempah; Ellie Goulding and a moody black and white split lighting set of actor Ralph Fiennes.
The magazine isn't available in every newsagent, so you might have track it down or order online.  I usually find that larger Sainsburys and WH Smith have it in stock.
Budding Male Model Matt
You might recall my earlier encounter with Matt.  Here again, I was helping my photographer friend Mel to practice his studio lighting and in between Mel's sets I fired off a few frames for myself.  It was only Matt's second time in front of the camera and I think he has a really strong 'look' that the camera likes.
The lighting was as simple as it gets – a studio light to camera right bounced into a large umbrella to light Matt; and a second studio flash-head providing a touch of lighting on the background.
Click on the images to enlarge them and please feel free to leave a comment.