Another lingerie set with Melissa, again photographed at Manchester's Millwood Photographic Studio. I do like the whole setup there.
I used four Bowens studio lights for this set, all with softboxes. Two softboxes were positioned behind the white netting to add some light to the background. I used a medium softbox as my main light, which I moved to around the 8 o'clock or 4 o'clock position depending on which way Melissa was facing. This light was feathered away from Melissa for an even softer light. I then added a large softbox behind the camera to give some fill light. See the lighting diagram.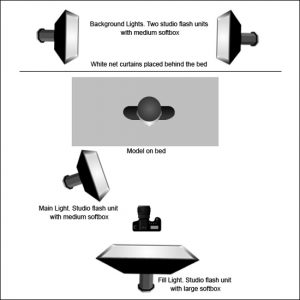 All that was then left to do was work with Melissa and guide her through a range of poses. Honestly, it's difficult to take a bad photo of this lovely lady. She is one of the most comfortable people in front of the camera that I have ever photographed.
Click on the images to see them bigger, and please feel free to post a comment or question below.
Thanks for visiting.