A short while ago Melissa and I headed back to Millwood Photographic Studio for another photoshoot and a chance to try out various ideas.  I like a large studio as I can play with lots of equipment.
If you haven't yet been to Millwood Studio I highly recommend that you contact Paul and Jamie and go give it a try.  It's a great studio.  Located in Stalybridge, Greater Manchester, Millwood has enough Bowens studio lighting to keep any photographer, or group of photographers, happy.  The studio is built on two floors.  Downstairs, you have 'the white room' featuring a large expanse of white wall and infinity cove.  Walk through a door into the next room and you can choose between a barnyard set complete with the obligatory haystacks; a Mediterranean-style house set and a washroom set.  Upstairs, there is a bedroom set suitable for boudoir / glamour photography; a living room set with leather sofa and chairs;  a stone feature wall and colorama paper backdrops.  Lots to work with and well laid out.
We have shot together loads of times now and I love the fact that Melissa always turns up with a huge suitcase crammed with outfits and accessories.  Unpacking the case, she pulled out two swimsuits – a purple one and a black one.  We shot them both.  (I may show you the black ones later).
I wanted to create a wraparound lighting effect.  I quite like the effect of mixing soft light with harder rim lighting to pick out areas of specularity.  To give the lighting more of an edge Melissa applied a generous amount of baby oil all over her body.  Note that Millwood has a well-equipped private changing room for the model's comfort.  The smell of baby oil wafted throughout the studio as Melissa took her place in front of the camera.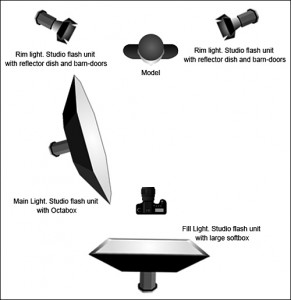 My main light was a Bowens studio flash unit with an Octabox, which I positioned around the 8 o'clock position and slightly feathered away from Melissa for a softer effect.  I used a large softbox behind me for fill at around the 6 o'clock position.  I then positioned two other Bowens studio flash units with bare reflector dishes and barn-doors at each side and slightly behind Melissa to give a rim light down each side.  All that was then needed was for Melissa to look beautiful in front of the camera (not difficult).
Has it worked?  Well, I like the effect and I think the photos look fab.
For those who like to know camera settings.  I shot these at:
Mode: 'M' Manual
ISO: 100
Aperture: f/5.6
Shutter: 1/125
Click on the photos to enlarge them.  Thanks for reading and please feel free to post any comments below.