My first photoshoot of 2014 was with Melissa and this time we made use of Millwood Photographic Studio, where I have become friendly with the owners Jamie and Paul.  If you haven't yet visited Millwood, you should give it a go.  It's a terrific studio.
I had booked well in advance and we had the whole studio to ourselves and all the lighting and equipment we wanted.  At one point we even had a smoke machine going.  I'll be posting more photographs in time, but today I'm posting some from a set we shot on the bed.  I stripped the bed down to plain white sheets as I wanted a white, neutral, setting to complement Melissa's white lingerie.  Behind the bed I hung some white netting to curtain it off.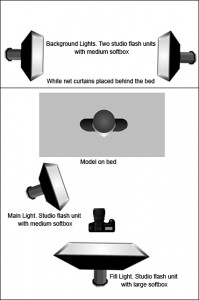 I used four Bowens studio lights for this set, all with softboxes.  Two softboxes were positioned behind the white netting to add some light to the background.  I used a medium softbox as my main light, which I moved to around the 7 o'clock or 5 o'clock position depending on which way Melissa was facing.  This light was feathered away from Melissa for an even softer light.  I then added a large softbox behind me and the camera to give some fill light.  See the lighting diagram.  As ever, I hasten to add that I don't claim to be a lighting expert, but like to keep things relatively simple wherever possible. 
I'm finding lately that I am preferring to work at larger apertures.  For this set my camera was set to:
– Manual Mode
– Aperture f/5.6
– Shutter speed 1/125
– ISO 100
Melissa and I have worked together now on many shoots and there is a great rapport and trust now developed between us.  I find that I can very quickly and easily communicate to her what I'm trying to achieve, and, in turn, she never fails to deliver the right 'look' just when I want it.  We already have our next photoshoot booked and are planning some great ideas (I cannot wait).
I hope you enjoy viewing the photographs.  Please feel free to comment.