"Nice and easy does it
Nice and easy does it
Nice and easy does it every time"
Frank Sinatra 'Nice 'n' Easy'
Regular visitors to the site will know that I've photographed musician Jay a few times now. When I first met him he was working as a drummer. More recently he's stepped into the limelight and launched a singing career.
We setup a short studio shoot to provide him with a few more promotional headshots. I'm generally not a huge fan of using props in photos unless there's a specific reason, but when Jay brought out the microphone I was glad he'd packed it and thought it would add to the image.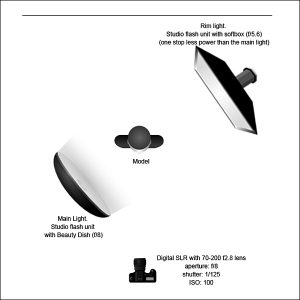 I kept the lighting nice 'n' easy, opting for two-point 'sandwich' lighting. A beauty dish close to Jay for the main light and a softbox to the rear to give some rim light separation from the background. The background paper was actually white, but because we were positioned a few feet away from the background and the main light was close to Jay, the falloff of light meant that the background went dark grey to almost black.
Camera settings were:
Lens: Sigma 70-200 f/2.8 lens
Aperture: f/8
Shutter speed: 1/125
ISO: 100
Looking through the images I thought that black and white would suit them more than colour, though I provided Jay with a selection of both. The two photographs below were my personal favourites. Click to see them bigger and please feel free to leave a comment or question below. Thanks for reading.