Here are some of my favourite photographs from a recent studio shoot with professional model Rachelle.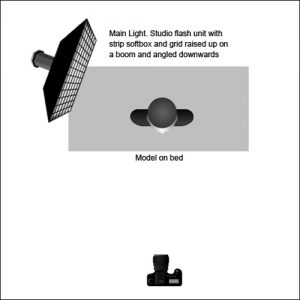 I wanted the images to be quite low key black and white, so setup the lighting to suit – just one studio flash fitted with a strip softbox and raised on a boom above and off to one side of the bed. The softbox was fitted with a grid to control light spill and increase shadows and contrast. See lighting diagram.
I used a 70-200 f/2.8 lens from several feet away.
Camera settings:
Shutter speed: 1/160
Aperture: f/6.3
ISO: 100
Rachelle was a true professional in front of the camera and I'm very happy with the results. Click on each photo to see it bigger and feel free to leave a comment or question below. Which are your favourites? I think the first image of the series below is one that stands out for me.
Thanks very much for reading.