Let me start this blog post by mentioning my friends at Millwood Photography Studio, Jamie and Paul, who have just published their second studio newsletter.  Again, I was happy to contribute a short article for it and you can read it here.  Thanks guys!
For the last couple of weeks I have been preoccupied with other things and have not picked up a camera.  The last time I did so was to point my lens at Philippa, a young lady who I think has an elegant, classic beauty that the camera just loves.  I thoroughly enjoyed photographing her.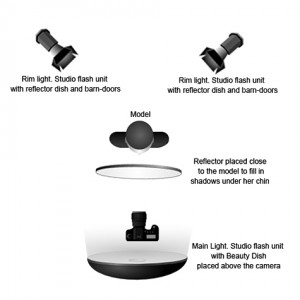 With a studio shoot the lighting is totally within your control.  Here, I opted for a simple three light setup that I have used on several occasions.  I wanted to light Philippa from the front and to also bring in backlighting to create highlights in the hair and rim lighting for separation.
The main light was a studio flash unit fitted with a beauty dish high above the camera position.  I also had a white reflector below to fill in the shadows under her chin.  It's a tried and tested 'clamshell' lighting pattern used by thousands of photographers through the years, because it creates beautiful, flattering lighting.  It's probably my most used 'go to' lighting setup when capturing female portraits.
With my main light in place, I then added a back light on either side of Philippa.  These were fitted with standard reflector dishes and barn-doors to prevent too much light spill.  All three lights were metered at the same power output (f/8).
Philippa was seated on a stool.  She wasn't going anywhere, the lights weren't going anywhere.  All I had to do was coach some expressions from her and take the shots.
I can't decide if I prefer colour or black and white, though I think I'm edging towards the black and white.  What do you think?  Click the images to enlarge and do please feel free to post a comment below.
Thanks for reading!