"So take off your shades, go get down on your knees and pray
But no powers from heaven could ever take the darkness away
My love rise on laughing mind. Love talks to the roses
But you bring 'em bad bad weather"
Per Gessle  'Always Breaking My Heart'

Thanks to my friends Gill and Lesley, I had the chance to work with Simon, male fitness model.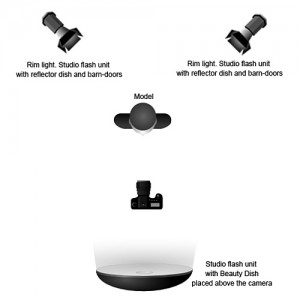 Fitness models have to keep their bodies in peak condition and display an athletic, toned physique with very low body fat.  Eating a clean diet, high in protein, combined with a regular exercise program is all part of the job.  I'm in awe of the physical and mental work that Simon puts in on a daily basis to maintain his physique.
The shoot was in a local studio.  I chose to use quite hard light for this set to bring out the contours of his body with shadows and light.  If I had used softboxes the effect would have been much softer, flatter and just wouldn't have been the same.
Two studio flash lights were placed behind him to create a rim light down each side.  The lights were fitted with bare reflector dishes with barn-doors to flag off any light spillage.  I found that I needed some light from the front, so chose to add in a bare beauty dish raised high behind the camera position.  The background was a black colorama paper roll, with Simon standing a few feet away from it.
After checking exposures and taking a few shots I felt that something was missing.  I'm sure you've probably had that feeling on a photoshoot where you're thinking that the shots are okay but just need something extra adding.  I had the idea of asking Simon to put on some sunglasses.  Hey presto… much better!
These are my two favourite shots from the set and I couldn't decide if I preferred black and white or colour.  Looking at them again, I think black and white has the edge.  What do you think?
Click the images to enlarge and please feel free to post a comment below.