With so many manufacturers and kits on the market it can be a daunting task trying to decide which studio lighting kit is best for your needs.  In this post I'm going to talk about studio lighting kits and how I chose my current kit. 
Some photographers like to use continuous lighting (hot lights).  Some prefer the portability of using flashguns (speedlights) for a 'strobist' off camera flash approach.  I have always felt most comfortable using studio flash units wherever possible.
A good resource for asking questions and finding out more about studio lighting is the 'Studio and Lighting Techniques Forum' at DPReview.com.  I hang out there quite a bit and often see the same question from people – "which studio lighting kit should I buy?"
Over the years I have used various makes of lighting in studios, including Bowens, Broncolor and Elinchrom.  I always had it in my head that my next studio lighting purchase would be a Bowens 500w/s kit – lots of flash power, solid metal construction, a reliable reputation, easy to use, lots of readily available lighting accessories and modifiers with the Bowens 'S' Fitting.  Three of my professional photographer friends all used Bowens.  Yes, no question… I was going to buy Bowens.  But after months of research and pondering I went out and bought an Elinchrom kit.
In my research I studied websites, Youtube videos, review sites and spoke to several people.  I considered studio lighting kits from the likes of Lencarta, Interfit, Coreflash, Calumet Genesis, Lastolite, etc, etc…  It always kept coming back to a choice between Bowens or Elinchrom.
Once I had disregarded all other makes I then seriously had to decide which to buy.  Would it be the Bowens 500w/s kit that I had always had as my number one, or would it be the Elinchrom BXRI 500w/s, or would it perhaps be the Bowens 400w/s kit, or the Elinchrom D-Lite IT 400w/s kit?  Decisions, decisions…
Factors in my decision making process included:
Flash Power
The power of studio flash units is usually expressed in either Joules (J) or Watt Seconds (w/s).  Both terms really mean the same thing.  Studio flash units come in various powers, eg 200w/s, 300w/s, 400w/s, 500w/s, etc.  In terms of flash power there isn't such a great difference in output between a 400w/s unit and a 500w/s unit.  
Some manufacturers also express the flash power by 'Guide Number' (GN) – the amount of light given out using a standard reflector dish at 100 ISO.  As  a general rule, the higher the w/s or GN numbers the more power you can get from the flash unit.  But remember that in some circumstances having too much power can be as bad as not having enough.
Power Adjustment Range
Many flash units boast that they have a '5 Stop Range'.   Much like dimming the lights in your home, flash power can be adjusted by turning a dial or by pressing a button, which means that the amount of power given out by the flash unit can cover, for example, from f/5.6, through f/8, f/11, f/16 upto f/22.
Some flash units just have a basic turn-dial, whereas some can give you the ability to alter the power in one-tenth of a stop increments, which makes for very precise exposures.  For example, Elinchrom units have a digital readout where each press of the button on the back of the unit moves the exposure up or down by one-tenth of a stop.
Would I ever realistically need to shoot at anything beyond f/22? Given the locations that I tend to work in would a 500w/s kit really be needed?  Could I justify the extra cost?  In the end I talked myself out of the need for a 500w/s kit in favour of a 400w/s kit.
Flash Triggering
Once I had decided that I didn't need a 500w/s kit this left me debating the Bowens 400w/s kit versus the Elinchrom 400w/s D-Lite IT kit. As they were both quite similar in price I looked at features.
The 'traditional' way to trigger a studio flash unit is to plug a sync lead from the unit into the camera.  I don't like trailing flash sync leads as they can lead to accidents or units being knocked over, so knew that I wanted to shoot wirelessly. A big selling point of the Elinchrom system is that it has 'Skyport' wireless triggering built into each flash unit, whereas I would have to buy a separate wireless triggering kit and plug it into the Bowens (such as the Bowens Pulsar wireless trigger kit). This got me more and more interested in Elinchrom.
Lighting Accessories
Another factor to consider is the availability of accessories or lighting modifiers to fit onto your studio flash kit.
Kits will often come bundled with an umbrella and a small softbox, or maybe two umbrellas, but you will want the option of being able to add more accessories. 
Camera manufacturers like Nikon and Canon like to use ther own lens fittings and its the same with studio flash manufacturers.  Try fitting a Bowens softbox onto an Elinchrom flash unit and you'll have a problem.  The two common fittings (certainly in the UK) are Bowens 'S' Fit and Elinchrom 'EL' fit.  Having had a good look around the Internet I knew that finding modifiers from the manufacturers and from third-party suppliers wouldn't be a problem.
Other Features
Some other factors to bear in mind when choosing your studio lighting kit include:
Fan Cooling  –  On a busy shoot the flash unit can get hot and it helps to have internal fan cooling built into the unit.
Recharging Time  –  After the flash unit has fired it needs to recharge itself ready for the next shot.  With a budget unit this recharge can take a few seconds, which doesn't sound a lot but it can be annoying if you're in the flow of a shoot and you then have to wait before taking the next photograph.  Units with a recycle time of around 0.5 seconds or less are easier to work with than ones that take 3-5 seconds.
Flash Ready Beep – Some flash units give out an audible beep to let you know that the unit is fully recharged and ready to fire.  This can be helpful, but you can always turn the beep off if it gets on your nerves.
Portability  –  Will you be needing to carry the kit to different locations?  How heavy is it?  Will it all fit into an easy to carry bag?
Support  –  There may come a time when you need a spare part, eg a replacement flash tube, or the unit may need servicing.  A factor to consider is how easy will it be to buy parts?  Are parts readily available?   Can you replace the parts yourself or will you have to send the unit away to have it fixed?  Can you contact the manufacturer or their main dealer?  How good is their support and after-sales care?
Personal Preference
With cameras some people just prefer to buy Canon, Nikon, Pentax, Fuji, etc.  It's the same with studio lighting kits.  Bowens or Elinchrom?  Lencarta or Interfit?  Personal preference is bound to enter any buying decision.
Perhaps it's human nature, but when I was shopping around I started to notice Elinchrom lighting being used in lots of photography videos by seasoned professional photographers. I chatted with a few more photographers online and found that they were also big fans of Elinchrom's workmanship, Swiss engineering and reliability.
In the end I made my decision and bought the Elinchrom D-Lite IT 4 400w/s kit – complete with two Elinchrom D-Lite IT 400w/s flash units; two small softboxes; reflector dish; two lighting stands and Skyport wireless trigger kit.  Thinking that the standard small softboxes wouldn't be large enough for my needs I have also since added a larger softbox and a beauty dish, along with barn-doors, grid attachment and coloured gels.  This has given me a kit that fits into a large carry-case and can easily be transported to location shoots.
So far, the Elinchrom D-Lite IT kit has been fantastic to use and has never let me down – easy to assemble and take down, fast recycle times means I never miss a shot or have to wait.  The in-built Skyport wireless triggering is foolproof.  Digital settings means that I can adjust power down to one-tenth of a stop, and there is more than enough power (5 stops from f/5.6 to f/22).
My only regret is that I didn't buy it sooner.
Elinchrom have now superceded the D-Lite IT kit with their new D-Lite RX kits.  See this link on Amazon for more information.
Here's a shot of Michelle on a recent location shoot with my Elinchrom D-Lite IT.  (The unit is sporting a beauty dish with 'shower cap' attachment)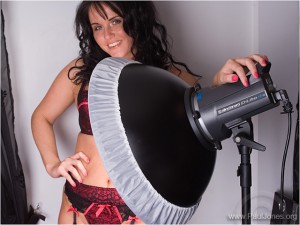 Thanks for reading.  I hope that it's been useful.  Feel free to comment.