"I see girls
Here there and everywhere
Short skirts long hair
Love it when they walk yeah."
Studio B 'I See Girls'
Do you ever wonder what kind of photographer you want to be?
For some time now I've been struggling to define myself as a photographer. I often use the label 'glamour photographer', though I enjoy shooting much more than this, be it landscapes, lighthouses, boats and bikes… I'll photograph men and I'll photograph women. I just like having a camera in my hand.
Let's stay on the subject of photographing women though, as probably 80% of my website is made up of women. For a while I think I've been confusing myself with thoughts about what kind of photographer I want to be and what 'genre' I want to pursue. And here's where I think I've gone a bit off the rails with perhaps overthinking things.  Over recent years I've experimented with so many genres – glamour, portraits, headshots, fashion, erotic, nude, art nude, boudoir – to try to find the one thing that I enjoy the most. And I haven't found the definitive answer because I think the answer is that I enjoy them all. I'm as happy photographing women with clothes on or clothes off, indoors or outdoors, studio or location. I enjoy capturing their beauty.
My interest in boudoir photography
For me it starts with the face and the eyes. The 'look' and the 'attitude' is so much more important than the body. This possibly sparked my interest in boudoir photography. I've steadily been filling up my bookshelf with books about boudoir photography, buying training videos and watching probably every boudoir photography video there is on YouTube and Vimeo.
For a while I was thinking that boudoir photography is about the lighting or the outfits or how you process the images, but I've come to realise that boudoir is mainly about the mindset with which you approach the shoot and the intent behind the photographs. And boudoir photographers each have their own style of boudoir photography, so, as with most forms of photography, there's no one right way to do it. My thinking is that boudoir is more about sensuality, as opposed to the sexuality of a lot of glamour photography. Boudoir photography is often about intimacy, as typified by the woman who wants a private photoshoot to capture some intimate images either for herself or to share with her partner. Whereas glamour photography is often more 'in your face', with more sex appeal than intimacy. Of course, whether an image is seen as 'glamour' or 'boudoir' can ultimately depend on what is in the mind of the viewer.
Boudoir photography resources
As I've been busy looking into boudoir photography I thought I'd share a few resources with you. The following three books are probably the best boudoir photography books currently available. I've bought all three and have learned new things from each of them.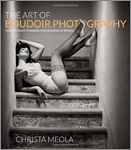 'The Art of Boudoir Photography' by Christa Meola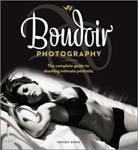 'Boudoir Photography' by Critsey Rowe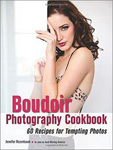 'Boudoir Photography Cookbook'by Jen Rozenbaum
Damien Lovegrove videos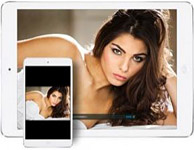 'Simply Boudoir' by Damien Lovegrove. I've been a fan of Damien for a few years now. In an earlier blog post I wrote about attending one of his workshops. I've bought most of his training videos and watched them over and over again.
For more inspiration take alook at Damien Lovegrove's boudoir gallery and his blog. There's quite a few Lovegrove videos on YouTube on his channel and this one on boudoir photography.
Vimeo and YouTube
I've watched dozens of boudoir photography videos on Vimeo and YouTube. Names include Sue Bryce and Jen Rozenbaum, eg:
'Jen Rozenbaum, How to take a good bed posing photo' and 'Jen Rozenbaum, Flow posing'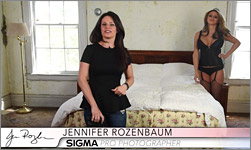 I hope this blog post has been useful to you. I'll leave you with one of my photographs of Laura. A lady who had never posed in front of a camera before and who contacted me through my website. Is it boudoir or glamour? Let me know what you think. Click the photo to see it bigger, and thanks for reading.