Regular readers of my blog will know that I like to use bathrooms as a setting for glamour shots whenever the possibility arises.  Add a beautiful girl in a wet t-shirt or vest and you have a classic combination for glamour photography.
Often, bathrooms can be quite small, so there's not much scope for creative lighting setups.  Bounced lighting off a wall or ceiling can work well, or, as was the case with this shoot with Melissa, have the lighting directly behind you.  Yes, this can result in quite 'flat lighting', but is that so bad?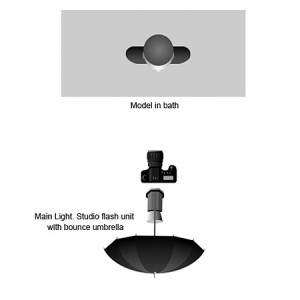 Here, once Melissa was in position in the bathtub, I placed a single studio flash unit with a bounce umbrella behind me, outside the bathroom doorway, and then took a meter reading and set exposure on the camera.  With the light set up it was just a matter of Melissa doing her thing and us getting a few photographs we were happy with.
A word about safety
If you're planning a bathroom photoshoot bear in mind that bathrooms can be dangerous places.  Water is a good electrical conductor, so use common sense.  Electrical items shouldn't be anywhere near wet hands or wet skin, so leave the lighting and other equipment outside the bathroom wherever possible.
Click the photos to enlarge and feel free to post a comment.