Well, OK, there's not fifty… But the title jumped out at me seeing as almost everywhere I go there are people talking about that now infamous book and movie franchise.
I'm probably one of the few remaining people who hasn't read the book or seen the film. Though I'll admit that I did flick through it recently in a bookshop out of curiosity.  Not enough time to get a full flavour for it.  I got as far as the girl biting her bottom lip and beginning to tremble, and then Mrs J said she was ready to leave.
So, here's another photoshoot with musician / drummer Jay, who'll you'll remember from the previous shoot.
The first shoot was such fun that I was very happy to help him with some new headshots.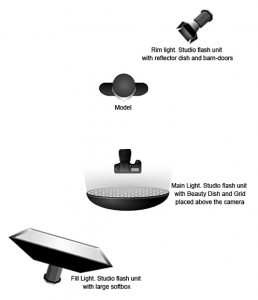 With headshots, and portraiture in general, it's about working with your subject and coaching some genuine expressions from them.  I am constantly talking with the subject throughout the shoot, encouraging them to give me more of their personality.  It's quite easy when we share the same sense of humour.  Jay and I are huge Alan Partridge fans, so it was easy to get him smiling – back of the net!
For this set I used a simple three light setup, with studio flash.  A beauty dish with grid was used for the main light and I backed this up with a large softbox behind my camera position to add some fill light.  I then brought in an accent light, or 'kicker', from behind Jay to brush some light down his left side.  See the lighting diagram.
I get a real buzz from capturing headshots / portraits and the whole process of working with people.
Click the photographs to enlarge and please feel free to post a comment below.