I'm currently enjoying post-processing some images from my latest photoshoot, so thought I'd share one with you.
Romanian model Georgiana was photographed at Manchester's Millwood Photographic Studio, where I have become friends with the owners Jamie and Paul.  It's a fantastic studio and I'd recommend it to any photographer.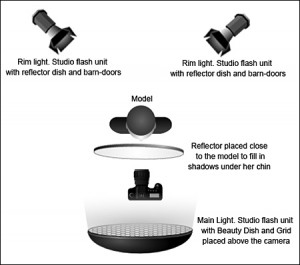 This setup was easy to create and it used three Bowens studio flash-heads.  I setup a simple 'clamshell' lighting arrangement of a studio light above the camera to light the model's face, with a reflector underneath to bounce some light under the chin to fill in shadows.  Here, I chose to modify my main light with a beauty dish fitted with a grid.  A beauty dish gives gorgeous light that is slightly harder than a softbox.  The grid makes the light more directional.
Georgiana was wearing a black outfit and placed in front of a black colorama backdrop.  To create some separation I added a rim light down each side by placing a Bowens studio light behind her and angled towards her.  The lights were fitted with barn-doors to lessen the amount of light coming forward and to prevent any flare coming into the camera.
Georgiana had dark hair and a black outfit, so I set the back lights to the same power as my main light.  All three lights were metered at f/8 as I wanted the rim light to stand out.  In a studio I usually set my camera to its lowest ISO, which was ISO 100.  My shutter speed was 1/125.
I think Georgiana has quite a classic beauty and the black and white treatment gives something of a 'Hollywood' glamour feel to the photograph.  I have been watching a few videos on Hollywood portraits recently, aswell as re-reading my books on the subject, so this has no doubt influenced me a little.
Click the images to enlarge.  Thanks for reading and do please feel free to post any comments in the box below.