Dorothy Parker wrote that "Men seldom make passes at girls who wear glasses."
Personally, I think that some women's features are greatly enhanced by the addition of a suitable pair of spectacles.  Some women just look so 'right' when wearing glasses.  In many ways glasses have moved from a fundamental requirement to aid poor eyesight to a fashion statement, helped along by several celebrity glasses wearers.
In glamour photography the use of glasses as a tool to help seduction is well known.  Many men will no doubt identify with the image of a seductive secretary or 'femme fatale' letting her hair down whilst toying teasingly with her glasses.
Here's a photo of Kimberley in her glasses for you to enjoy  (click to enlarge).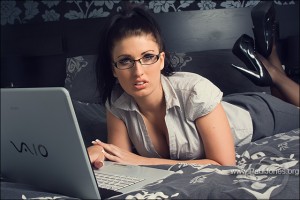 Feel free to share your thoughts…