I was asked this week to contribute a photograph or two to go into my photography club's yearbook.  This year marks the 75th anniversary of the formation of Atherton & District Amateur Photographic Society. 
Over the last 15 years I've taken thousands of images so it's not an easy task choosing favourites, but the first one I selected was this image of Leonor photographed on the beach at Formby (click to enlarge).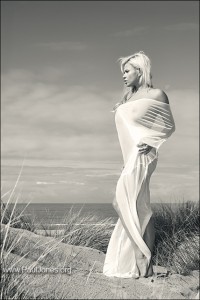 The idea for the shoot was hers and she had made the dress for the occasion.  It was our second shoot together.   We were blessed with a beautiful blue sky and I think we captured some great shots.  The image above stands out for me for its 'arty' feel (I hope that doesn't sound too pretentious).
Here are a couple more favourites from the shoot (click to enlarge).