As we move into a new year I'm enjoying photography again with a renewed passion and already have half a dozen photoshoots booked that I'm looking forward to. Of course, this also means that I'm spending as much time as I can on the computer editing images for the site.
Photographers that capture a lot of digital photographs will appreciate the storage needed to back them all up. Over the Christmas break and last couple of weeks I've been backing up and transferring files onto even more new hard-drives. Many thousands of images taken over the last 16 years or so. It's interesting looking back at images that I took years ago.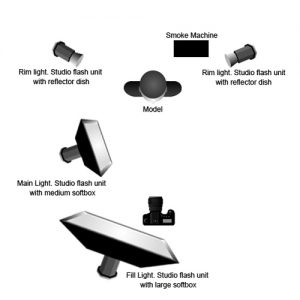 I have lots of images, both old and new, that haven't yet made it onto the site, so am hoping to publish a lot more photos this year. One of the most popular models on the site over the past few years has been Melissa, perhaps because I've photographed her so often. I couldn't think of a better way to mark the new year than with a previously unseen set from her.
Taken in Millwood Studio, I was playing around with a smoke machine to see what effects I could create. The images were lit with four Bowens studio flash units. Medium softbox for main light at 8 o'clock; large softbox for fill at around 7 o'clock; a rim light on either side of her and slightly behind.
Click on each photo to see it bigger and feel free to leave a comment or question below. Thanks very much for reading.