Following on from my previous post, here's another set of photographs featuring professional model Mischkah. The photographs were taken at Pure Studio, Preston.
Regular followers of my blog will know that I have a liking for simplicity in my photography. So, a bed stripped down to neutral, unfussy white bedding makes an ideal setting for boudoir, glamour or nude photography. To accompany this I asked Mischkah to wear something white and she brought out a white lacy top which I thought suited the mood perfectly. Whilst many photographers I know shy away from shooting white on white, it's actually one of my favourite themes.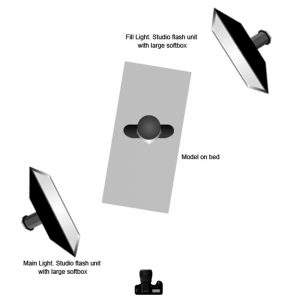 I setup basic two-point lighting. Elinchrom studio flash with a softbox behind Mischkah for rim light and another softbox in front for the main light. Both softboxes were set to a similar power output as I wanted the overall scene to be very bright. The camera was fitted with a 70-200 f/2.8 lens and I shot from several feet away.
Camera settings:
Shutter speed: 1/160
Aperture: f/5.6
ISO: 100
I've included a selection of images. I'm not quite sure which one's my favourite. Which do you like best?
Click the images to see them larger and please feel free to leave a comment or question. Thanks for reading.